Tales of the Closet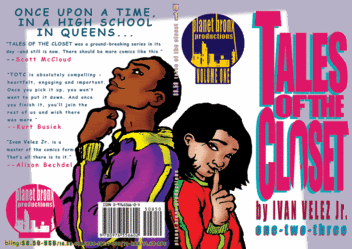 Johanna of Comics Worth Reading
points out
the return of the landmark gay teen comic series
Tales of the Closet
. Nine issues were released from 1986 to 1993, but those are long out of print. The promised tenth and final issue was never published.
In
this Usenet thread
, creator Ivan Velez, Jr. reveals that the new
Tales of the Closet
will collect the published issues in three compendium issues, while the fourth will contain the 80-page finale that would have been issue #10.
PlanetBronx.com
will eventually have more info about the series, but right now there's not much to see.
GayLeague.com has archived reviews of the individual issues:
Reviews of Tales of the Closet #1-5
Review of Tales of the Closet #6
Review of Tales of the Closet #7
Review of Tales of the Closet #8
Review of Tales of the Closet #9
(via
Cognitive Dissonance
. I've been reading Johanna's reviews and writings online since Usenet days. What's odd is that I always have problems remembering that
Cognitive Dissonance
the name of Johanna's blog. I can remember that she writes
Comics Worth Reading
, but just barely. I guess to me the "brand" is "Johanna Draper Carlson". It's not an issue with other bloggers, because I discovered the author through the blog, but with Johanna it's the other way around.)