Comics in January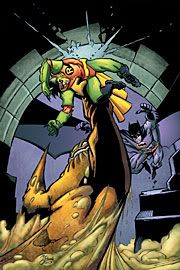 Here's what I'm considering picking up this month. What else should I look out for?
Jan. 12
Fables #33
-- one of the comics I most look forward to each month
Nightwing #101
-- kickoff to the biweekly six issue storyline
"Nightwing: Year One"
, detailing how the first Robin became Nightwing
The Pulse #7
-- I've been following Jessica Jones' story since Alias #1
Ultimates 2 #2
-- best superhero art in the industry
Jan 19
Ex Machina: The First Hundred Days
-- first trade paperback for this much-buzzed about series (love the art, and I have the first issue somewhere)
Madrox #5
-- conclusion to the intriguing miniseries about a mutant whose power is to multiply himself
Jan. 26
Astonishing X-Men #8
-- amazing art, solid story
JLA Classified #3
-- final issue of Grant Morrison & Ed McGuinness's inaugural storyline
Legion of Superheroes #2
-- enjoying this new series
Nightwing #102
-- assuming, of course, that I enjoy issue #101 (I haven't read Nightwing in a while)
We3 #3
-- finale to the disturbing and moving Grant Morrison/Frank Quitely miniseries.