The Mirror of Love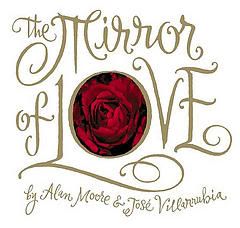 Last year Top Shelf Comics published
The Mirror of Love
as a beautiful hardcover. Alan Moore's 1988 poem was originally written as an 8-page comic for a self-published pro-gay rights benefit comic against Britain's Clause 28. A few years ago, artist José Villarubia, who has worked with Moore on comics in the past, worked with playwright David Drake to adapt the poem as a one-man theatre piece, which Villarubia performed in the nude. Eventually Villarubia re-adapted the poem, with the permission of Moore and his original artistic collaborators, illustrating the work with a series of gorgeous art-photos.
Newsarama.com has an
exhaustive essay
detailing the history of the project, illustrated with several photos from Villarubia's adaptation.
Comicon.com has published
Alan Moore's complete original script
for
The Mirror of Love
. Villarubia went his own direction with the artwork, but it's amazing to read Moore's scripts (as always).