Look at Me
We're experiencing the Summer Tivo Doldrums here at Cape Bear. Here's what's filling our DVR while we wait for the good stuff:
*
The Closer
with Kyra Sedgwick. Singlehandedly responsible for the pre-emptive THANKYEEW being introduced into our vocabulary, as in "Could you get me a drink?THANKYEEW!" Works best if uttered without any pause whatsoever.
*
Kathy Griffin: My Life on the D-List
. Always good for a laugh, and the recent jaunt to Iraq was actually moving. Responsible for us buying tickets to her upcoming concert in San Diego at the end of July.
*
STAR JONES
. Best catfight ever? Today's episode with Meryl Streep & Anne Hathaway was obviously taped a day or two before The Dismissal, but it was nonetheless interesting. Star's body language was stiff, stiff, stiff. The Hot Topics (or, as Jim Gaffigan would no doubt sing-song it, "Hot Pockets") were themed to Prada, natch:
what's it like to work for a bitch
was the gist of it. Star had some heated words about sneaky female bosses that had to be aimed at Barbara. Delicious.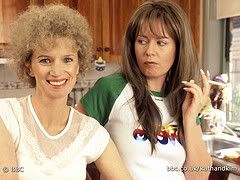 *
Kath and Kim
. We've actually seen all the episodes that the Sundance Channel has aired -- they've shown Series Three and are now cycling through Series One. I just hope they air Series Two pretty damn soon. If you're not familiar with the show, it's something like an Aussie AbFab, with Kylie in the place of Lulu. We've picked up some of the sayings from this show as well, but none of them make sense if you haven't seen it.
What we're excited about:
*
Project Runway
, of course.