Buddha 5 is a Go?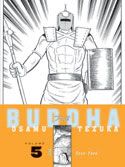 I know
at least one person
who'll be happy to hear this:
According to this
blog entry from book publisher Vertical
(top entry), the latest volume of the new series of English reprints of
Osamu Tezuka's Buddha
is now in the Vertical warehouse, which means it should be in stores.... sometime soon?
PS: the
Vertical blog
is a great example of what corporate blogging ought to be: opinionated, passionate, willing to talk about other things of interest, and funny. Recent entries include a judge in Oklahoma caught masturbating with a penis pump under his robe, and how JAL airlines is courting the gay travel market.