No static at all
Wow, sorry for the blog silence there. Had a double whammy weekend: International Bear Rendezvous AND WonderCon. What a time for a guy who writes a blog about bears and comics, eh?
The big bear event (for me, anyway) was going on Friday night to see the IBR screening of the unedited
Cachorro (Bear Cub)
.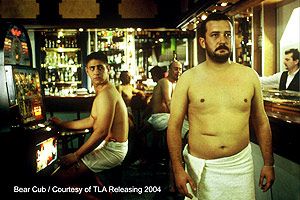 They announced beforehand that the DVD, due out in early May, will be unedited.
The boyfriend and I saw Bearcub in December, so this was our second time out. The extra bits (hee!) were fun, and the movie is vastly improved by seeing it with an appreciate audience of bears. But we were both tired and the screening took place at 9pm, so we slid out early and went to bed.
The big comic event (for me, anyway) took place on Sunday, when I went to Wondercon with a friend. I tracked down many half-price trade paperbacks and even hardcover collections and I learned that Neal Adams is talkative and kind of a jerk.
Best of all, though: I got Margot Kidder to autograph a photo to the boyfriend, and she agreed to sign it "Sisters Forever", in honor of
Sisters
, a fave of his. The photo that I bought from Margot is classic: it's a black and white pic from the late 70s, she's wearing a TIGHT Blues Brothers t-shirt with no bra, and she's hot. SISTERS FOREVER!!!