The Gay Woodstock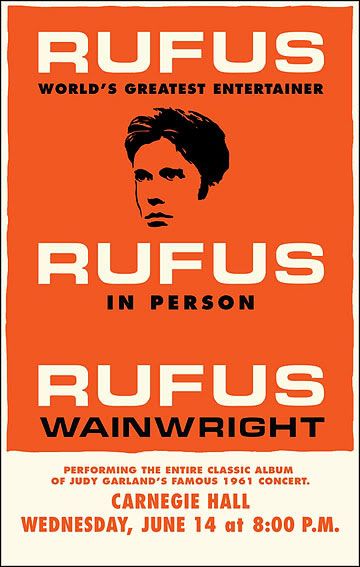 Rufus Wainwright will be performing the
entire 1961 Judy Garland at Carnegie Hall concert
, with a full orchestra, at Carnegie Hall in June. Insane? Brilliant? Both?!?
How authentic will the performance be? I imagine he'll use the same orchestrations, the same charts, the same medleys and overture. The real question, though, is obvious.
Will he wear the same gowns?
I'm scared.
Back in 2004, Rufus
said in an interview
: "In fact, I do consider myself to be the male Judy Garland." He also admitted then to becoming obsessed with the Judy at Carnegie Hall album. Last February, he said in
another interview
that "he aspires to the condition of Judy Garland at Carnegie Hall." So I guess this is just progression. Or delusion. Or something.
(via
the SFGate blog
, which writes "Culture Blogger Neva Chonin says this is going to be the gay Woodstock", and I think that's completely true)